Enrolling Additional Household Members
Sep 03, 2019
3768
Background
If you want to enroll an additional client into a project where the household members are already enrolled, you would need to enroll the client from the Programs page of any of the household members that were originally enrolled. You should not enroll the client from his own Programs page, because by doing so the client would be enrolled as an individual which means that the client would be alone in the project enrollment.
Prior to enrolling the new household member into a project, the client must first be added to the Global Household in the Household Members section of the Profile screen. To get instructions on how to do this, please review the Knowledge Base article on Managing the Global Household. After you do that, you can enroll the client in the same project(s) as the other member(s) of the household following the steps below.
This video contains most but not all of the same information in this article.
Enrolling Additional Household Members
In this example, I would like to enroll Super Man in one of the projects Super Woman is already enrolled.
Step 1: Search for the client's name and click on the Edit icon.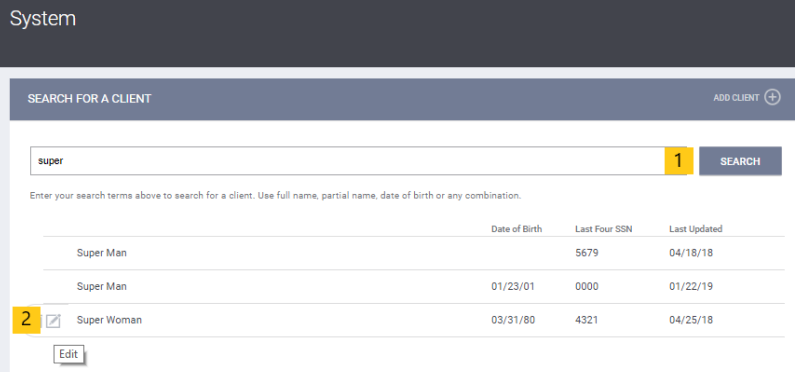 Step 2: The first step is to open Super Woman's record and verify that Super Man is already part of the Household. We can do this by verifying that Super Man is visible in the Household Members section of Super Woman's Profile Screen.
Step 3: Go to the Program tab of Super Woman's record and select the Edit button next to the project you would like to enroll Super Man into. In this case I would like to enroll Super Man into the ESG Funded Homeless Prevention Training Project.
Step 4: Go to the History tab and select the Add Button next to Program Group Members at the right of the screen.
Step 5: A popup box will appear providing the option to add any household member who is not already enrolled in the project. Toggle the switch next to the name of the client you want to enroll, and then click Enroll. In this case I would toggle the switch next to Super Man.

This will open Super Man's Program Enrollment page, where we can answer the project entry questions to enroll the client. After you have answered the program entry questions, click Save and Close.